Dr Elsey's Presents
TICA'S
World of Cats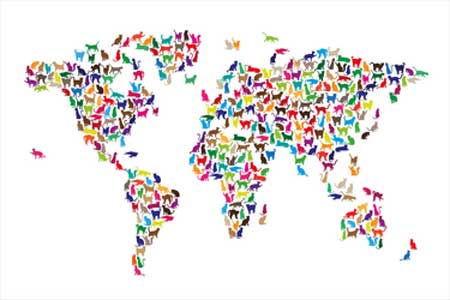 (Cats Map of the World digital art by Michael Tompsett)
An Allbreed and Household Pet Cat Show plus Special Events and Seminars
November 3-5, 2017
David L. Lawrence Convention Center
Pittsburgh, Pennsylvania
Hosted by Mid Atlantic & Pennsylvania Pet Lovers
In conjunction with the Pittsburgh Pet Expo
THREE DAYS * 18 RINGS * 250-CAT LIMIT
JUDGES

FRIDAY
SATURDAY
SUNDAY
Vickie Fisher
AB
Lindajean Grillo
AB
Lindajean Grillo
AB
Brenda Russo
AB
Ellen Crockett
AB
Vicki Jo Harrison
AB
Nikki Crandall-Seibert
AB
Vickie Shields
AB
Harley DeVilbiss
AB
Richard Hoskinson
AB
Adriana Kajon
AB
Kim Tomlin
AB
Susanna Shon
SP
Kay DeVilbiss
AB
Ellen Crockett
SP
Harley DeVilbiss
SP
Christina Baumer
SP
Susanna Shon
SP
SPECIAL EVENTS!
CHAMPIONSHIP CONGRESSES with proceeds to benefit the Pittsburgh Zoo (these will be held on SATURDAY)
Titans of the Tundra Congress (AB Congress) - Maine Coon, Norwegian, Pixiebob, Siberian
Jungle Fever (AB Congress) - Bengal (LH/SH), Australian Mist, Mau, Ocicat, Savannah, Toyger
Originals Congress (AB congress) - Aby, Siamese, Persian, Brittish, Scottish Fold- breeds present at the Crystal Palace Show

Plus!
Mars Veterinary Innovations, Feline Genetics 101
Save the Cats - Seminar on Endangered Big Cats from Pittsburgh Zoo
Feline Fashion Show
Cat Cosplay Contest - "Best", "Sexiest", "Most Super" - *Cash prizes*
More Special Events Sponsored by Dr Elsey's!

Dr Elsey's is sposoring the FIRST ENTRY of EVERY BREED! The FIRST ENTRY of every breed will be PAID by Dr Elsey's, for entries submitted between September 1 and September 30!
Dr. Elsey's Parade of Champions - Highest Scoring Championship Cat of every breed presented to audience on Sunday afternoon
Dr. Elsey's People's Choice - Cash prizes for Top THREE People's Choice Cat/kitten in show